When you live in a Winkler Property, there are perks!
We developed the Winkler Perks program by talking to residents, and identifying which shops and restaurants they enjoyed most. Our residents enjoy unlimited use discounts at these local businesses.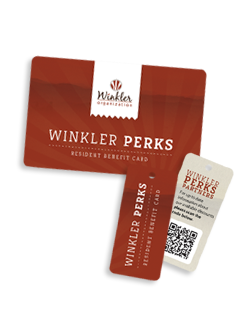 Winkler Perks include
Red Onion – Buy 1 Entree, Get 1 Half Off
Tapp Room – Buy 1 Entree, Get 1 Half Off
Lost Province – 10% off All Food
Cafe Portofino – Free Garlic Knots (with entree purchase, dine-in only)
Klondike Café – 10% off All Food (not valid on specials)
Mint Restaurant – 15% Off All Food
The Local – 10% Off All Food
Lucky Penny – 10% Off All Regular Priced Items
Canvas Beauty Bar – $10 Off Color Services
Mellow Mushroom – 10% Off All Food
Stick Boy Bread Co. – 10% Off All Food
Boone Golf Club – $5 Off Green Fees Monday-Thursday Afternoons
Kava Bar – 10% Off Purchase
ReDeux Boutique – 15% Off All Clothing
Recess – 10% Off Regular Priced Footwear & Apparel
Basil's Fresh Pasta & Pasta – 10% Off All Food
Red Door Salon – $10 Off Colors, $5 Off Haircuts
Housekeeping Comes Standard
We know you have lots to do, and no time to do it. That's why Winkler properties include FREE housekeeping services!
On a regular rotation, our in-house Housekeeping staff will clean the accessible common areas, kitchen and bathrooms of your apartment. You will receive advance notice of the day Housekeeping will arrive so that you can have any clutter in the applicable areas picked up.

What Our Tenants Are Saying About Us
"This is my second year in this apartment through Winkler. The staff has been incredible helpful and timely at responding to issues we have had. I would definitely recommend others to rent from you guys. Thanks for a great two years."

— Christopher, Wilcox Warehouse
"I loved living at Cardinal Apartments. Winkler has been amazing and some of the best land-lords I have ever been under. They were always helpful and understanding. The service was always prompt if anything ever went wrong."

— Morgan, Cardinal I
"The cleaning service was a big help."

— Michal, Steeplechase Wood Circle
"I had a great experience living in Wilcox Warehouse for both my junior and senior years at App State. The Winkler Organization was extremely accommodating whenever we had any difficulties. Thanks for a great two years!"

— Brittany, Wilcox Warehouse
"I really enjoyed the space. The cleaning service was an added treat and the included utilities took a lot of stress out of paying bills. The utilities all worked well and maintenance was quick and thorough."

— Ariana, Wilcox Warehouse
"(I've only been living in App Manor since August, but) I really enjoy living here.[…] the location is so great and the fact that each room has their own bathroom and window is extremely convenient and gives me the personal space I need."

— Sarah, App Manor